The Johnny Bright Incident (Oct. 20, 1951)
Race, college football, and "straight news"

Welcome to Throwbacks, a weekly-ish newsletter by Michael Weinreb about sports history, culture and politics. If you like what you're reading, please subscribe and share.
---
I. The Johnny Bright Incident
Here is one of the most harrowing photo sequences you will ever see: Number 43, circled above, is a running back for Drake University named Johnny Bright. In 1961, Johnny Bright was one of the best football players in the country, a Heisman Trophy candidate. That October, undefeated Drake played a game at Oklahoma A&M University, which would eventually become known as Oklahoma State University. There are stories that Oklahoma A&M was already planning to target Bright in the days before the game; there are stories from players who watched practice that week that whenever the backups ran Bright's plays, the coaches would shout, "Get that n——r." An Oklahoma businessman who watched the game with his wife reported that a member of Oklahoma A&M's "B" team told him, as the game started, "We're gonna get that n——r."
The gratuitous cheap shot shown in this photo series—which was published in the Des Moines Register, and won the Pulitzer Prize—wound up breaking Bright's jaw. They got Bright, and the officials did not bother to call a penalty on the play.
That hit eventually led Drake to drop out of the Missouri Valley Conference, of which both teams were members. That hit became, according to one historian, one of college football's biggest racial controversies of the 1950s, and led to a requirement for face masks to be added to helmets.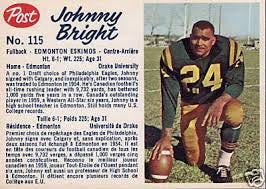 Johnny Bright went on to play in the Canadian Football League, and became a teacher and principal in Edmonton. He was highly forgiving about the incident at Oklahoma A&M; he told a reporter in 1980 that he believed the incident "made the NCAA take a hard look and clean up some things that were bad." More than 50 years later, in 2005, Oklahoma State formally apologized, some 22 years after Bright's death. And fifteen years after that apology, Oklahoma State once again found itself at the center of a moment that may change college football as we know it.
---
II. Tell Me What Happened
Years ago, when I was a young reporter in Akron, Ohio, I had a strange conversation with an older man at a bar. I told him I was a sportswriter, and he gave me a flat piece of advice. "Just tell me what happened," he said, over and over again, and at the time, I wasn't sure what the hell he was talking about. Didn't newspapers specialize in telling people what happened? But over time, as we talked more, it became clear: He felt that the sports page had become something more than the sports page. He was tired of the news reporting on stories that he didn't feel represented the world that he lived in, and he was tired of having his worldview challenged while trying to get the Cleveland Indians score. He wanted the news to reflect the world he'd come to see, and he wasn't willing to acknowledge that perhaps the world he lived in wasn't the same as the world in which he'd grown up.
Perhaps we were telling him what happened, and he just wasn't willing to accept it.
---
III. "Are You Quittin' N_____r"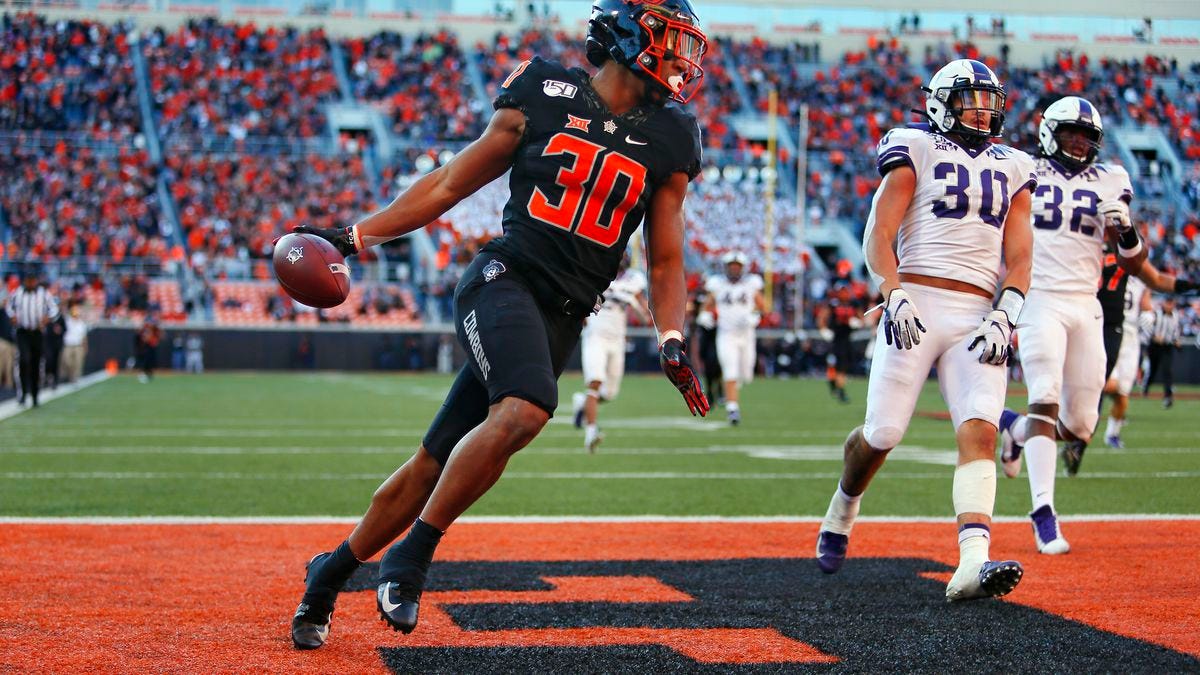 I would presume that Oklahoma State football coach Mike Gundy—who played quarterback for the Cowboys in the 1980s, and who grew up in the state of Oklahoma—is at least moderately aware of what happened to Johnny Bright in 1951, and is at least moderately aware of his home state's fraught racial history. This history did not cease in 1957, when Oklahoma State signed its first black player, Chester Pittman; this history did not cease when Oklahoma State joined the Big Eight (a conference with its own ignominious racial history) the next year. This history carried on well into the 1960s, as Oklahoma State employed several coaches who appeared to view black players as more expendable than whites: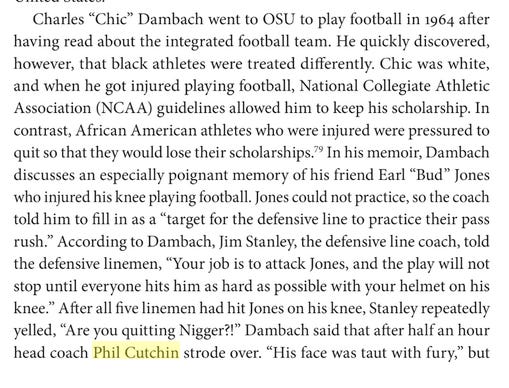 (Source: Prairie Power, by Sarah Eppler Janda)
It may have even carried over into the 1980s, and to Gundy himself:
The chain reaction that led to controversy at Oklahoma State this week was far less physically overt than a football team targeting a black running back who was also a Heisman trophy candidate, as with Johnny Bright. Instead, a black running back and Heisman Trophy candidate, Chuba Hubbard, spotted Gundy wearing a T-shirt from a television network called One America News. A few months earlier, Gundy had claimed that he had stumbled across OAN while flipping through the channels, and found that it reported "straight news" without the patina of opinion he claimed to see on the other channels.
Say what you will about OAN, but it is not straight news. It is, in fact, a straight-faced parody of "straight news," a melange of conspiracy theories and falsehoods and skewed reporting that's evolved directly out of the cesspool of false Facebook memes and absurdist conspiracy theories that got us into this political mess in the first place. It is as if someone funneled the basest instincts of conservative talk radio and Fox News through a Saturday Night Live parody algorithm and vomited it onto cable. It is an inherently ridiculous idea that came along at an inherently ridiculous moment in our history, and it feels like the endpoint of all those Howard Beale prophesies about news and entertainment merging into one idiotic channel. It might be hilarious if everything in America weren't terrible right now.
So Chuba Hubbard pointed out that, while his coach had a right to believe whatever the hell he wanted, an OAN T-shirt was not cool with him. He declared he would not be playing for Oklahoma State anymore until his coach was at least willing to attempt to grasp the truth about OAN: That it was not straight news, and that perhaps the fact that Gundy presumed it was straight news—particularly in its relentless and hyperbolic criticisms of the Black Lives Matter movement—demonstrated that his worldview was so diametrically opposed to Hubbard and other black players' worldviews that they might not be reconcilable. During that time, other complaints emerged about coaches complaining about black players' dress and attire, all of which draws a direct line back to the black college athlete protests of the late 1960s, all of which stemmed from horrific and violent events like the Johnny Bright Incident of 1951.
Gundy, seeing where this was headed, did not attempt to dig in his heels. In fact, he apologized.
It is too soon to tell if that apology is sincere; it is too soon to know whether Gundy will be able to erase "a stigma as being racially insensitive and completely ambivalent to the plight of his black players," as Yahoo's Pete Thamel wrote. It is too soon to know if Gundy is actually willing to take the time to understand what it must be like for Hubbard and other black athletes to play football in a small Oklahoma town where they are constantly outnumbered and feel as if they are only respected for their skills on a football field. This is not unique; this is a feeling that black athletes have had in college towns all over America, including in my own hometown. Mike Gundy, by wearing that T-shirt, amplified Chuba Hubbard's concern that he and his teammates exist in a reality that their coaches may not have the inherent empathy to understand.
---
IV. "Bright's Jaw Broken"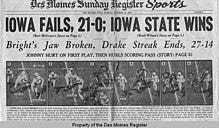 I am worried about a lot of things these days, and while the future of journalism may not be highest on that list, it is a concern. I do not think journalism should be regarded as a form of outright social advocacy; I think the stories that we tell should drive societal change by the force of nuanced reporting and writing, and not by what we say in 280 characters. I think we should strive to listen to opposing points of view and empathize with those views when it makes sense, and to understand where they're coming from when they don't make sense. In that way, I kind of agree with the old man I met in the bar in Akron that night: I want to know what's happening.
But I also recognize that there is a basic responsibility here among those of us who write about these things to recognize when something has gone horribly wrong in our society. The Johnny Bright Incident was not an isolated occurrence; for decades, black players were targeted and refused scholarships and treated to a double-standard, and Hubbard seemed to feel as if this double standard still existed at Oklahoma State. Maybe Mike Gundy couldn't see it; maybe to him, OAN really did feel like straight news. But now that he's learned otherwise, he has to know that the world is going to keep on changing, with or without him.
---
This newsletter is very much a work in progress. Thoughts? Ideas for future editions? Contact me via twitter or at michaeliweinreb at gmail, or leave a comment below. If you enjoyed this newsletter, please subscribe and/or share it with others.